I have been waiting for the opportunity to understand about wine, precisely how to taste wine and judge a good wine. Last week, I got to visit Howard Johnson Bangalore to experience one such wine event.
Winetourindia.com in association with Howard Johnson Hotel, Bangalore brought a unique edutainment event that helped the participants to learn the techniques of wine tasting through stand-up comedy. For the first time in India, the medium of stand-up comedy was used to impart the nuances of wine tasting.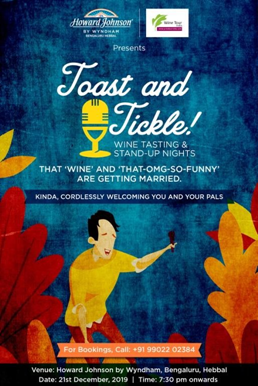 A handful of celebrated comedians with fresh and lively acts from two well- known groups worked on this project to bring to life this unique content.
Toast & Tickle was hosted at Howard Johnson (by Windham) Bangalore known for its world class hospitality for many years.
Winetourindia.com is specialized in organising wine tours and wine events across India for about a decade now. Through Nashik, Bangalore, Pune, Hampi, etc. there are many private and luxurious wine trails that are regularly organised by this outfit. Winetourindia.com has organised many public and corporate wine events across many Indian cities.
Four handpicked wines (3 from Grover Zampa Vineyards Ltd.) was paired with delectable foods specially crafted for
this event. Local artisan cheese was specially chosen for this event which really cherished the guests. Apart from the wine tasting event, there was a mini exhibition also at the venue on the wine storage and serving apparatus like glassware, accessories, wine cellars, etc.
This was truly a fun-filled event to appreciate the finer connotations of wine and our daily life.
Howard Johnson is one of the finest business hotels in Bangalore housing some really good restaurants serving extremely good food. Its an indeed great place to stay. Looking forward for more such events in near future 🙂
Do check out
www.winetourindia.com for more events.